Dear Family and Friends of Jeana and Kevin, Welcome to our home on the World Wide Web. We hope to use this site to keep you up-to-date on our doings while we are in Miharu-machi, Japan. We hope you enjoy a glimpse at our daily lives in this beautiful small town in northern Japan.
Please drop us a line if you have any feedback on this site. Use the GUEST BOOK (bottom right), or click on CONTACT US for a link to our email address, as well as our mailing address and phone/fax information.

What's New?
10/2002 - Added photos of Kevin's 8th Birthday Party. We had a BLAST!
8/17/2002 - Added photos of Kevin in Kimono to the Photo Gallery. Click on Photo Gallery above. CHECK IT OUT! He looks soooooooo cute!
6/2002 - Added a Guest Book - see icon at bottom right of Home page.
4/15/2002 - Added more links in the Photo Gallery page. Link to Mr. Kusakabe's latest pottery show.
11/02/2001 - I added photo of Kevin in Harry Potter costume to the Spotlight Photo page.
2/17/2001 - Added Japan Resources (links to pages about Japan for kids), Visitor Info (info about us and the Rice Lake House with links), and page about Miharu.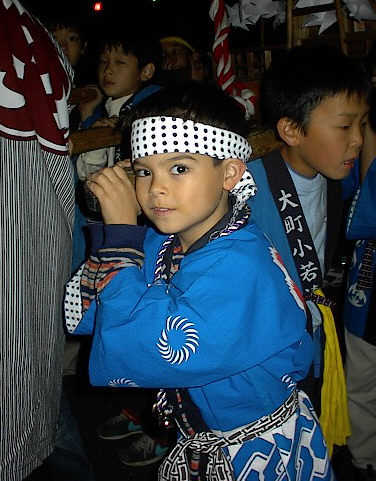 Here's a shot of Kevin during the October (Omikoshi) Festival (2000). See the page on Omikoshi in the Photo Gallery for more fun photos of this interesting Japanese festival.

View My Guestbook
Sign My Guestbook

If you are a member of the extended Schieffer clan, you can join our Yahoo Group by entering your email and clicking on the icon below. Please, Family Members and friends ONLY. Abusers will be terminated!